Publications, Newsletters & Reviews
We have been visited by writers and editors as well as by representatives of numerous international volunteer providers and sending agents. We are truly fortunate to be able to have placed more than 1000 volunteers in numerous social development & aid programs in Venezuela and the Dominican Republic since 2001.
Aldeas de Paz is not only locally well known, but also internationally recognized and promoted through important organizations and the media. However, we choose to maintain the status of a small and sustainable local grassroots' volunteer NGO.
also check: Annual Report 2016 / Financial Report 2016
"Depending on time commitment and skills, volunteers can work on a number of community development projects."
Lonely Planet 2007 - Venezuela / Page 324
"You need only work five hours a day, doing what you prefer to do, learn a new language if you chose to and, in your spare time, explore some of the oldest terrain on the planet. All while preserving the local ecology and making a difference to the lives of the Pemon Indigenous community."
Lonely Planet - Code Green / Page 208, by Debra Herrmann
"Volunteer Vacations: Short-Term Adventures That Will Benefit You and Others."
by Doug Cutchins & Anne Geissinger / February 2006 buy online
"Though things change slowly, I know that PVF will be there to help foment this change because the mission here is simple: promote a culture based on patience, acceptance and kindness and the rest will fall beautifully into place."
Sandy Lord / Brighton, USA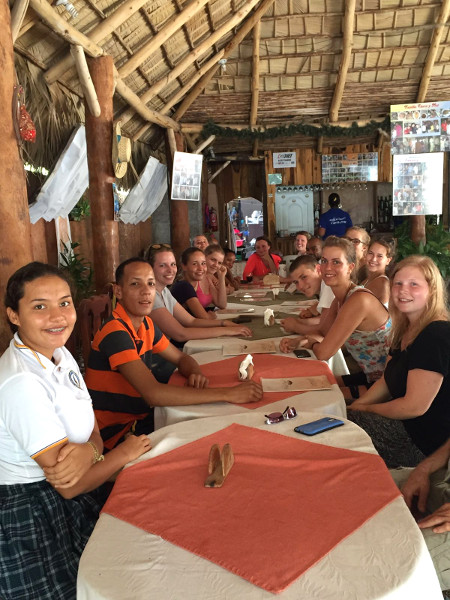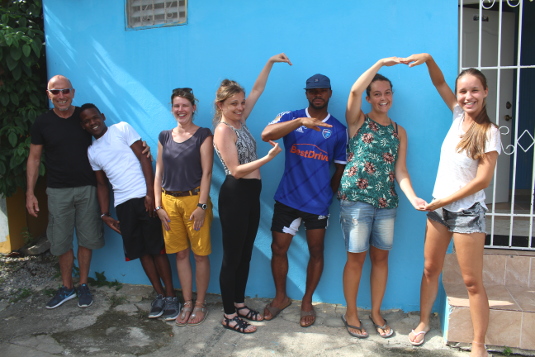 My name is Kevin Murton and I have just finished my 7 weeks in Samana, Dominican Republic, volunteering for Aldeas de Paz helping with the Multi Media output. As everyone would be, I was a little nervous about how the experience would turn out for various reasons, particularly in relation to my age and lack of intermediate Spanish ability. I quickly realised I didn't have to worry on either account. Although I was encouraged to speak Spanish whenever I could, particularly in the Spanish lessons, I felt comfortable at all times that my English would get me by, and that was the common language we generally used in any meetings I was involved in. In relation to my age, genuinely I felt no difference in my relationships with the volunteers as the younger ones did with each other. Having a young open mind and respect for each other was plenty for everyone to generally get along. I offered my unique set of skills, capabilities and energies and others did the same. I suppose you kind of adopt a role within a temporary family setting, which obviously changes as people come and go. So when I initally arrived, I had an amazing welcome from Manfred and the rest of the volunteers. I made sure I had no expectations as to the place I was coming to and made myself aware of the fact that cultural differences would be inevitable. A mindful, moment-to-moment approach, without too much judgement, helped me through those intial few days. Bit-by-bit I felt more and more comfortable with any security concerns I may have had. A healthy awareness of what was going on around me, like I do in London, and common sense decisions became part of my everyday living. It feels very safe here. Getting used to the heat, changes in diet and the variety of nature that you see (from experience a clean room and a spray every month of insect repellant deters anything that may want to come inside), can all be viewed positively, and some may not be concerned with these changes at all, but if you are, taking the intiative to find the best way you want to deal with these issues quickly is a good idea. Eating the Plata del Dia or buying vegetables at the local market or the colmardos near to the apartments can make food here quite cheap, but be aware of buying too much at the 'gringo' supermecado. Food can be very expensive here and a lot of it doesn't have the price on it. It may take a while for the local gift shops to realise that you aren't a tourist, so you will be an amigo/a to all of them. It's a good way to practice your Spanish if nothing else. The Multi Media work I did here was very enjoyable and working at the school, the hospital, at the Ayuntamiento, interviewing the Mayor. It feels very rewarding having produced film that can only show Aldeas de Paz in a positive light and perhaps create opportunities for future grants. There is some amazingly beautiful scenery here on the Samana peninsula to explore. Whale watching during February and March, El Salto de Limon (waterfall), the amazingly beautiful Playa de Cayo Levantado and Los Haitises are some, but every so often you catch the beauty shown by the people; typically on the beach, with Bachata music playing as couples dance, as others play table games and still others lay back in the sun with a Carribbean kissed cocktail ready to sip, wrapped in not much more than the hot breeze drifting off the gentility of the ocean. I have experienced a few of these kinds of cultural immersion trips now and felt genuinely emotional about leaving a group of people, whose heart tells them they want help a society, which at the moment is not able to give the same chances as most of us have back in our own countries. Manfred is a great man and I have a lot of respect for him. He makes a lot of effort to help make your experience a useful and happy one. I came here to have an adventure, learn more Spanish and help a very worthwhile charity. I leave feeling like a better person, with what I have accomplished. Thanks Manfred, I have had an amazing experience, which will stay in my memories for a very long time to come. I hope our paths meet again in the not too distant future...... byeee I'm off to Costa Rica. Kevin Murton - UK
The other side of paradise. If you think of the Dominican Republic you will think of sun, hot weather, the caribbean and clear blue water. But this island has more to offer than you see as a regular tourist. To get to know the life in the Dominican Republic (DR) and fulfill a clerkship for my university I decided to live and work on the island for roughly a month. In the following I want to describe the experiences I gained. My journey started with the simple idea of going abroad to get to know the daily life in a country very different to my home, Germany. Moreover I wanted to gain experience in my future carrier as a doctor. Therefore I searched the internet and found through studentsgoabroad.com the Aldeas de Paz foundation in Samana, DR. They offered exactly what I was looking for, a voluntary placement in a hospital in Samana with an accommodation among other volunteers in town. Finding the organisation was the hardest part, after that everything went smoothly; filling in applications, booking the flight and packing the suitcases. The Aldeas de Paz foundation gave very detailed information what to bring, especially as a volunteer in a hospital, such as uniform, gloves, etc. and always answered all questions I had concerning my journey. After getting all the necessary vaccinations, I started to freshen up my spanish skills again, which are very helpful for communicating with the patients. The day of departure came faster than expected and I flew to the Dominican Republic. After a short stay at the capital I was already in Samana, got picked up by Manfred, the headcoordinator of the foundation and introduced to the other volunteers I will be living with. Just two days later, after I settled in and bought all necessities, I was already introduced to Dr. Flor, which is the head doctress of the hospital. She gave me a tour of the hospital and showed me where I will work in the next weeks. All in all a very smooth and fast start in my new volunteer work. Working in the DR was a great experience. After getting used to different costums, for example that everybody talks at the same time in a very loud voice, I was able to get to know the doctors very well and became friends with them. The illnesses you see in the DR are different and in most cases more severe than in our western countries, such as infectiouse diseases. Overall working in the DR is very different than working in any western hospital. Even though technology is very advanced in the hospital, doctors rely more on basic observation and palpations skills, which teaches you all the basics, doctors in the western civilization may have forgotten. If you want to take the most out of the hospital experience, it helps if you know some spanish, but moreover you should speak up and say what you want. If you have any concernes ask Dr. Flor or Manfred, both of them are very eager helping you and making the most out of your stay. All in all working in such a hospital is a great experience that broadens your personal as well as medical perspectives on medicine and illnesses enormeously. But the life in the DR is not just work. Weekends are always free to explore the huge variety the island has to offer. Just to mention some peaks: beaches even more picturouse than any textbook can show, mountains with gorgeouse, breathtaking viewpoints and stunning hikes. As well as great waterfalls and canyons which are hikable, or other adventurouse exercices such as scuba diving, paragliding, etc. Everything is possible in the DR and just a couple hours away from where we lived. To make it even better I was able to explore all of that with the other volunteers, new friends I got to know, who make those places even more remarkable than they are. The huge blend of cultures within the volunteering group, as well as the culture of the inhabitants of the DR, makes you broaden your view extremly. I was able to get to know the locals well enough, thus advancing in spanish, and become friends with them as well as having friends now all over the world, through our volunteering group. In summary I want to thank the Aldeas de Paz foundation with all the volunteers and espacielly Manfred and Dr. Flor without whom this project would not be possible. For me it was not just a great experience but I also left parts of me there which makes me sure to say that I will come back again to visit. Thanks Dominican Republic! Patrick Richter - Germany Patrick
I joined Aldeas de Paz for 6 weeks and have had the most exciting, enjoyable and rewarding experience. I came to volunteer but also to add my own ideas and experience to the organisation and Aldeas de Paz allowed me to do that. The organisation accepts open minds allows everybody to contribute to improve the charity. I was able to use my guitar in the school and we planned our ow english classes to teach at the local hospital. This environment I found to be very relaxing and stress free which allowed me to be more creative. The area where we volunteered also had a very 'tranquilo' (chilled) vibe and we all organised regular weekend trips away to explore beaches, waterfalls an snorkel which were amazing experiences. Aldeas De Paz offers so many programs but I spent most of my time at the school which was such a wonderful experience. A lot of the children have special educational needs and at first I thought it would be hard to develop their skills in the 6 weeks I was here. But the differences in the children and the changes in their confidence were amazing. I felt so rewarded with these changes and it just shows that any amount of time you can spend here is valuable for them. Scott Brownle - UK
My time at Aldeas De Paz has been amazing. I have spent 6 weeks here and got to experience a range of projects. I worked in the youth, care and community project and being able to see the change in the children in such a short space of time was really rewarding. Also seeing how much they enjoy school and really want to learn puts a lot of things into perspective. They all arrive everyday with smiles on their faces, sometimes mischievous, but they will always make you laugh. I also helped out teaching English at the hospital which is something I didn't expect to be doing but really enjoyed. It challenged me to do something different and be creative planning different classes each week. The doctors all really appreciated this, especially when it involves games and competitions. On top of this I volunteered in the NGO management program which was really insightful in seeing how a grass roots organisation is run. I was able to shadow Julia in her daily tasks and it showed me that everyday is different and unexpected. To make the most of your time here you have to be open minded and absorb and live in the Dominican culture which is a very relaxed and slow paced way of life, perfect for me. If I could change anything about my experience here I would have wanted to know more Spanish before I arrived so I had more of a base to build on and was able to connect more with the locals. However it has not hindered my time here, it has made me want to work harder to learn Spanish and continue learning when I get home. Outside of volunteering I met a lot of amazing people from all over the world that I will never forget and hopefully will stay in contact with. We had some incredible weekend trips to see more of the Dominican Republic, one of the highlights was swimming with turtles in Sosua. So thank you to everyone and to Manfred, Julia and Junior for making the time here so special. Aldeas de paz is doing amazing work in Samara and I believe it is only the beginning. Olivia Organ - United Kingdam
I don't know how to start my experience report in Samana, because there is a lot to tell. I may start with my arrival seven weeks ago. It was my first journey alone for such a long time, far away from family, friends and my home. On the way to Samana, i had some worries about the time here, but the flew away when my likeable mom came to fetch me on the busstation. We went home and they all welcomed me with balloons and flowers. Then I met the other volunteers and we made friends immediately. After my first week I was beat-up, because of the heat and the work. My task at work was to teach the children in a special school. The most of them have difficult to concentrate or are disabled in a mentally or physically way. The kids demanded so much from you during the class, but after seven weeks I assert that some of the kids made an effort. This is so lovely that you can see that you reached somethig, that you were able to change something during the short time. And not only that kids were grateful to attend the class but also their parents, we especially the volunteers got a good feedback, which also made me proud. My second workplace was in the hospital, where I teach the doctors English. Sometimes it was hard, because they were not on the same level, but anyway it worked! All of the doctors are strained to learn something and I noticed an effort, too! On the weekend was time to relax and to travel, which was maybe the best part here. My highlight here was Jarabacoa, it's a town in the mountain(actually at the height of 2000 ft.), we stayed in a such a beautiful hostel, went paragliding and horse riding. Aurelia Altherr - Germany
Volunteering for Aldeas de Paz was a life-changing experience that has impacted me in ways beyond what I expected.  Originally, I had signed up for the "Teaching & Tutoring Activities" program.  I expected to be teaching only one class, but after arriving at Aldeas de Paz, there were numerous opportunities to make a difference in addition to this program.  Three days after arriving in Samaná, I found myself teaching English to doctors, Computer classes to adults from the area, and basic classes to children at the local school.  Aldeas de Paz provided me with each of these incredible opportunities.  Through teaching these classes, I formed close bonds with the students while making a difference in their lives through the power of education.  Samaná is undoubtedly an impoverished community.  But make no mistake, the people there want to learn.  If you involve yourself in a different program of the plethora offered by Aldeas de Paz, the same applies.  Samaná is a community in need but a community that longs to improve.  Whether you help in tourism, NGO management, teaching, or medical work,  your efforts will go a long way in bettering the lives of Samaná's citizens.  In addition to the tremendous philanthropic benefits of volunteering, my review would be incomplete without highlighting some amazing personal aspects of my stay.  First of all, Manfred, Julia, and Yunior, the three administrators, are some of the most passionate human beings I have ever met.  They do everything in their power to welcome you, make sure that you are enjoying your stay, and help you with any projects you aim to pursue.  Second, the other volunteers with Aldeas de Paz are wonderful people.  We regularly ate dinner, traveled to pristine beaches, and walked around the town together.  I am currently 17 years old, and although I was a bit nervous at first to be staying alone in Samaná, these volunteers helped me adjust to living alone.  For other prospective high school volunteers, there is no age barrier to volunteering with Aldeas de Paz at a young age.  Other volunteers as well as locals from the community will make you feel at home from the first day.  Another great benefit of Aldeas de Paz is that the volunteers hail from other countries.  This means that not only are you interacting with the entirely new, fascinating culture of the unique Dominican people, but you are also living with and learning from people representing a multitude of other cultures.  I met people from all corners of the earth, including Martinique, Aruba, Germany, Spain, Canada, and more.  You form a community with the other volunteers that is like no other- it makes you feel at home despite being thousands of miles from your home.  Finally, volunteering with Aldeas de Paz is personally rewarding because working in a town like Samaná truly gives you more perspective about happiness.  Seeing the smiling faces of the citizens of Samaná and the gratitude they express for your help despite the poverty that engulfs them infects you with a happiness that you will carry with you forever.  If you enjoy helping those in need, Aldeas de Paz is for you. Given the potential you have to make a change, the amazing community of Samaná, and the immense personal benefits of volunteering for this organization, signing up to work for Aldeas de Paz will be one of the most rewarding decisions of your life. Matthew Miller - Canada
Im Medana, i am from Germany, i did in Samana one month volunteer at the hospital. Was a very interesting experience. I was working with doctors and nurses at the Pediatric, Emergency, Maternity, Diabetics and Surgery. I was observing them how they work but in the same time i was helping them. I liked to work in a hospital in Dom. Republic, is more different then in Germany. Was a experience that will help me for the future. I see a lot of things different now. The people here are very nice and friendly. I've lived with the host family. They are amazing people, very big and great family. We spend a lot of time together, we did trips together. They help me every time I need it. With them I start to know a lot about the country, culture and the town and i can speak better spanisch now. I hope i can see them soon. I spend also time with the other volunteers, we worked together, we did excursions, we spend a lot of time together, we had very much fun. Was really nice here. The beaches are so beautiful. Is like paradise. My favorite was Playa Las Terrenas. There are more beaches to visit: Playa Rincon, Playa Las Galeras, Playa Cayo Levantado, Playa Escondida. This are amazing beaches to see. I had a amazing time here and i want to thank you everyone who was in this project. I hope i can come back one day. Medana Bondor - Bulgaria
My general experience "I have been working at Aldeas de Paz for 2 months from June to July 2016. There are many opportunities of careers with the diversity of programs and many possibilities to share and develop new skills even if you are not qualified for a specific field. Great chances to learn professionally and on many aspects of a stay in a foreign country. Hours are flexible Aldeas de Paz is a small organization with very good contact with volunteers, local partners and host families. Manfred and Julia are like a "bridge" between the locals and the volunteers. They are flexible and very helpful. The organization has an excellent Spanish teacher, Elson and a very good learning program for kids with special needs, especially thanks to the Program Manager Yunior. Thank you very much for allowing me to experience this amazing adventure !!!! Sephora Valberg - Martinique Island
Mi experiencia en Samana. El proyecto principal en el que iba a trabajar durante estos dos meses , Junio y Julio, era acerca de los estatutos de la fundación. El cual desarrolle en el primer mes, no obstante al mismo tiempo he ido colaborando en otros proyectos como en la escuela, en el hospital junto al voluntario Christopher, ayudándolo también a traducir su trabajo y también en una previa investigación sobre el zika, para que otros voluntarios la sigan llevando a cabo en el mes de agosto y siguientes. Sobre los estatutos, realmente se llego a firmar el 11 de Julio el acta de la asamblea constitutiva, por lo que me siento satisfecha de que haya sido útil mi ayuda. El trabajo consistió en reelaborar los antiguos estatutos que pertenecían a la fundación de Venezuela, ajustándolos a la ley de la republica Dominicana y tomando como ejemplo una organización de Santo Domingo. Con ayuda de la doctora Olga. El trabajo sobre la lactancia materna, en primer lugar fue la traducción del trabajo elaborado por Christopher, y una vez corregido y con el visto bueno de la Doctora Flor, elaboraron una serie de preguntas con el objetivo de entrevistar a las madres para verificar un poco la información que manejan del tema. Por ello en segundo lugar, dentro del proyecto de la lactancia materna esta las entrevista que realizamos a un conjunto de madres, con las preguntas sobre el trabajo, para que Flor pueda obtener un estudio con las respuestas. Y sobre el proyecto de la escuela, consistía en una reunión de preparación cada lunes así como la propia preparación y participación en las clases de la escuelita en los días Martes, Miércoles y Jueves. Este es el proyecto en el que he estado trabajando más tiempo, desde la segunda semana de Junio hasta la última semana de Julio, antes de irme. Y sinceramente con que he disfrutado mas. Igual porque al estar con los niños uno recibe mucho cariño y ven que ellos buscan mucho afecto o como responden cuando uno es amistoso con ellos. La escuela trabaja con niños especiales, aunque en este último mes han venido mas niños pues había vacaciones. Ha sido un placer trabajar con las profesoras nativas y estoy muy agradecida por cómo me han tratado. Creo que la escuela hace muy buen trabajo, pero es importante que se siga trabajando en ella, poner ilusión en este proyecto porque de verdad puede ayudar mucho y mas aquí que se ve cierto desinterés de algunos padres con los hijos que tienen problemas. Espero que los próximos voluntarios que trabajen en la escuela pongan ilusión y se den cuenta cuento aprecian los niños su presencia. Realmente ha sido un placer poder participar en el proyecto. En mi tiempo libre así como los fines de semana, he visitado un montón de sitios de la republica dominicana, playas increíbles como cascadas y excursiones, he ido tanto por el norte como ha santo domingo , punta cana....realmente ha merecido la pena moverse y ver todos estos lugares. Y aquí en Samana, la verdad es que no venía con expectativas de estar tan cómoda en el apartamento como he estado, no puede quejarme de nada. He recibido un buen trato de Manfred como de Julia, en cuento me he encontrado mal, en cuanto quería otro proyecto, han estado pendientes y aprovecho ahora para agradecer, pues habéis hecho mas fácil la experiencia no solo por la comodidad sino por saber que se puede contar con vosotros ante alguna dificultad. Y también he tenido muchísima suerte con los demás voluntarios, han estado muy abiertos, muy generosos y ha sido un placer compartir esto con ellos. Ha sido una gran experiencia, estoy bastante agradecida con la gente que he participado y espero poder volver; Paula Asensio - Spain
Hi, my name is Xavier and I just completed my 3 week volunteering placement in Saman√°. My placement, although short, was filled with many experiences; working in various programmes, spending time with other volunteers and exploring the town of Saman√° and the various attractions around. As part of my placement I assisted a local computation class, helped out at the Mama Elba school and taught English to medical staff of the local hospital. These programmes although all aimed at a different audience allowed me to interact with(teach and learn from) all these members of the Saman√° society. Next to these programmes I used my free time to explore the town and the peninsula. It amazed me to see how much there was to do in and around Saman√°. I had the most interesting conversation with locals, played dominoes with them, spent hours just taking in the views and went on various adventures with other volunteers on the weekends. Saman√° is a beautiful province, the people are friendly and helpful, all it really takes to have an awesome experience is to embrace the culture and little things with open arms. I must thank Aldeas de Paz for giving me the opportunity to be part of what they are doing there in Saman√° and creating a very positive and open environment. Xavier Boukhoudt - The Netherlands Saludos, Xavier Boekhoudt The Netherlands
A few weeks from when I wrote this, I stepped on to a small budget airliner and made my way across the Caribbean to the Dominican Republic. Before this experience I had never left the United States, and I was unsure what my time in Samana would be like. Needless to say, it was an absolute blast. I volunteered in a small dental clinic in Las Pascualas, a small, sleepy city on the outskirts of Samana. Volunteering in the clinic opened my eyes to some of the difficulties associated with public health care in a developing country, and it allowed me to look at public service through a different perspective. The dentist I was under was very nice, and incredibly accomidating; an absolute joy to volunteer under. This trip also allowed me to meet people from around the globe, and develop friendships with people who I would have never come across in daily life. The other volunteers really helped make this trip worthwhile, and I thoroughly enjoyed the time I spent with each one of them. Overall, Aldeas de Paz is a great organization to be apart of. The volunteers work hard to help the people of Samana, and the program director, Manfred, is very enabling. He will go out of his way to make sure you are getting the most out of your experience. I stayed in Samana for 28 days, and the time has honestly gone by very quickly. I have learned more than I had hoped to on this adventure, and I definitely recommend it to others. Thomas Phelps - USA
My experience in Samana with Aldeas de Paz has definitely exceeded my expectation in a couple of different aspects. First, by working as a dental assistant through the dental care program, I was able to work with a dentist side by side, directly interact with patients, and closely observe the reality of dental care in a developing country. Staffs at the hospital including my dentist were very nice to me which made it easy to adapt and become part of the team. It had been a valuable experience that I wouldn't be able to experience elsewhere. Next, I got to meet amazing people here – other volunteers. Open-minded people with great hearts come here to volunteer and it was great to spend time with them by working and traveling together, sharing stories and lives. I am blessed to have these friendships. Overall, it was a tremendously enriching experience! Sun Lee - South Korea
2014 &copy Template by W3LAYOUTS / Fundacion Aldeas de Paz is a Registered NGO &copy 2001-2018 Aldeas de Paz