Dentistry observation and experience opportunity
Work side by side with Dentist and staff at a public clinic
Our observation and hands-on dentistry experience is a program which is aimed at current professionals and aspiring dentists.
The project provides an opportunity to work in the local hospital-based dental clinic, where you will experience the stark contrast between Western dentist practice and the day-to-day realities of dentistry at a public dental clinic in a developing country.
Your level of possible involvement will largely depend upon your professional and Spanish language skills, as well as your motivation and willingness to get involved. Your work schedule will be created in a meeting with the departmental director and the volunteer coordinator and supervisor. As with any medical service, volunteers should recognize that their schedules may be subject to sudden change and are dictated by patients' needs.
During this observation and experience program you will be shadowing the doctors and nurses and you will be able to get hands-on experience in accordance with your qualifications and language skills.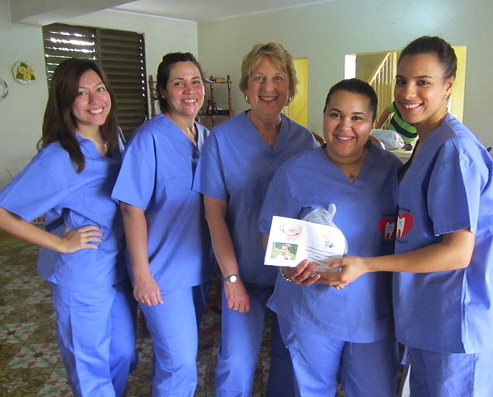 Requirements
Volunteer placement or internship
This program can be booked as volunteer placement or as internship.
Your profile
This program is suitable for dentist students and electives with free holiday time, pre-university students and also students taking, or planning to take, specialist dentist courses. The key requirements for a medical volunteer or intern are initiative, enthusiasm, and readiness to work in unfamiliar circumstances. More specialized skills will allow for more specialized activities.
Basic conversational Spanish skills are required and the more advanced your level of experience and Spanish language skills, the larger the number of opportunities available. To allow for deeper engagement with your placement we also offer free Spanish language lessons every week allowing for an enhanced experience as a volunteer/intern with us.
Time commitment
A minimum of 4 weeks is required.
Extra donation required
We require an extra donation of Euro 30,- per placement week for the Dental Care program. This donation will be spent to support needy patients with medicines and urgent medical supplies as well as needed equipment for the hospital and to cover extra spending incurred while placed at the hospital.
Click here to watch an interview of a former volunteer.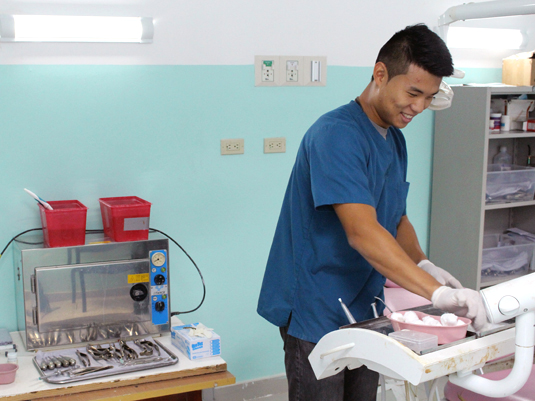 What to expect
Working hours will be primarily in the morning when the dentists are at the hospital. Intermediate to advanced Spanish speakers will get the most out of the rotation. Friendly and welcoming staff and patients make this rotation a joy to be a part of!
Activities can include but are not limited to
• Observing, shadowing and assisting the dentist
• Encouraging and teaching prevention of oral diseases through proper hygiene and regular checkups for professional cleaning and evaluation (special prevention program for pregnant woman)
• Providing oral health services support when needed, which includes dental assistance, dental hygiene and dental therapy
• Assisting the dentist according to your skills and experience with dental treatments: dental restorations, crowns, bridges, dentures, root canal therapy, periodontal therapy and extraction of teeth, as well as dental examinations and diagnosis
• Furthermore you are welcome to also work in our other projects such as the English and computer classes for example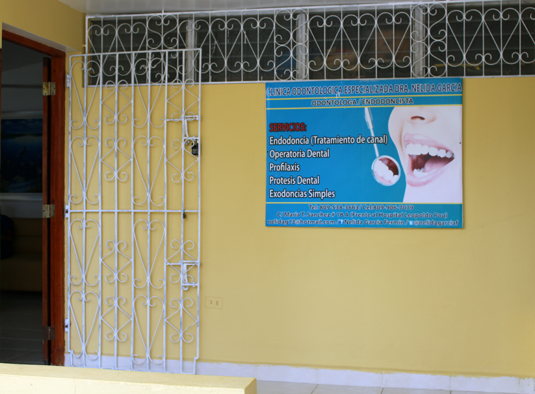 Suggestions on what to bring and donate:
Pease bring scrubs and easy to clean comfortable closed shoes to wear as they are mandatory!
latex gloves, hand sanitizer and face masks (N95 for the TB patients) would be a very helpful donation to the dental clinic
Guidelines on medical Issues of the Dominican Republic:
• WHO report on health care reform in Dominican Republic, 2010
• Health System of the Dominican Republic, 2011. The website provides an excellent overview of common medical issues in the DR and the government health system. Only available in Spanish.