Frequently Asked Questions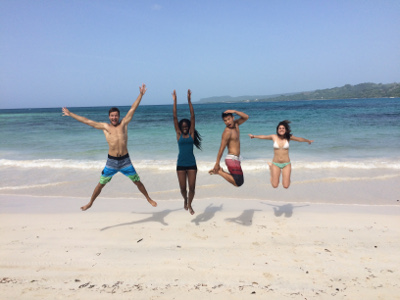 If you think you are ready to jump feet first into the Aldeas de Paz experience, there are some specifics to consider before arriving in the Dominican Republic. Below are some good questions to ask yourself before you decide if our charity is the right organization for you. In additon you will find anwers to frequently asked questions by potential volunteers.
Is volunteering the right path for me?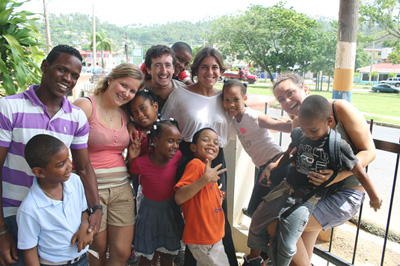 Volunteering with us may bring you into unfamiliar territory. This is part of the beauty of volunteering and living in another country. You must be ready to experience challenges. These may come in the form of cultural or personal differences. You must be able to see the beauty in these differences, as well as the opportunities for change that they present. Volunteers who come to us with an open mind and heart tend to benefit the most from this unique experience. Also know that whatever difficulties arise, you will always have the support of your fellow volunteers and staff!
Before joining us, we ask you to evaluate why you want to volunteer. This requires that each person work not because s/he is seeking outside recognition, but rather because s/he has some belief in the cause and enjoys the cross-cultural experience. Whether you decide to take part in Cooperative Living or feel that the Host Family option best suits your requirements, we would ask you to remain focused on the voluntary work that you commit to each week. Being in a new and exotic place with friends to make, parties to attend, and places to explore is an important part of the experience, we just ask that volunteering be your number one priority while you are with us.
As our programs rely heavily on the work of each volunteer, it is essential to have people willing to keep their commitments. Each volunteer will determine a personal work schedule. This is always catered to each person's interests, and is very flexible. However, once this schedule is set it is essential that each volunteer be committed to fulfilling their responsibilities. Our programs are very dependent on the work of volunteers. An inability to keep commitments can create difficulties for fellow volunteers, as well as the local beneficiaries. Volunteers decide how many hours they want to work. We recommend a minimum of 3 hours daily for 4 days a week. You may work as much as 5 days and as many hours you wish. We emphasize that we focus on excellence and not on quantity!
In the Dominican Republic, there is always a rumba nearby. Parties are everywhere and every day, and this celebratory culture is something that every tourist can appreciate. Unfortunately, the rumbas are often accompanied by serious social problems. Alcoholism is prominent in South America and the Caribbean, and alcohol-related violence (domestic violence in particular) is very common. Families are torn apart all the time because of substance abuse, and many of the children we work with are victims of this problem.
We try to create a sensible community where this isn't an issue. This is not to say that volunteers can't have a good time at the house or in town. We simply ask that all be conscious of our image in the community and act accordingly.
Our Foundation is building towards its long-term goal of being a multi-faceted Attention Center for Children and youth. The Foundation is still very flexible in many areas. This is hard for some people, but for others it is a great opportunity to be innovative! While we have our established programs, there are plenty of other opportunities to explore. All volunteers are invited to do this! We take your suggestions seriously.
In the Dominican Republic nothing is for sure. If you are coming from a more industrialized country, you may be used to the conveniences and reliability that consumer culture provides. Here in the DR, however, things may take a little longer, and be less reliable. In order to have a positive experience here, it will be necessary to accept these uncertainties. If you choose to live cooperatively, we would like to remind you that flexibility is a necessary quality to have. With volunteers coming and going all the time, decisions that are made are always a reflection of the particular group present at that time. There are bound to be personality differences and a capacity to manage these differences is very important.
No. We are an open, inclusive and supportive environment concerned with the promotion of respect for people from all backgrounds, religious beliefs, sexual orientations and political views. We do not have any affiliations with any religious, governmental, corporate or other interests.
We are a non-profit organization and rely entirely on volunteer donations to finance our programs. Our charity does not receive funding from religious, corporate or government agencies. We are totally driven by long & short-term volunteer efforts. Therefore we can keep volunteer costs to a minimum by spending less of the money on overheads.
also check latest financial and activity reports: Annual Report 2016 / Financial Report 2016

check non-profit status: Exoneracion de Impuestos / Aldeas de Paz Constitution in the Dominican Republic 2016 / Aldeas de Paz Constitution in Venezuela 2001
Our funds are dedicated to the financing of our programs and fulfilling our mission(see our
Spending Page
for details). A small part goes into debt payment and administration, an important part of the donations are spent on expenses directly related to hosting and supervising our volunteers and to providing all necessary services to them.
By volunteering with an established organization you can be reassured that you will be volunteering with a project that needs your help. As we do not receive funding from any government agencies, religious or corporate groups, the money that you pay is what finances the Foundation´s humanitarian and development programs and pays for the costs uncured by having you, the volunteer, recruited, hosted and supervised. Unfortunately, we do not therefore have the resources to pay for people's time, or subsidize travel costs (and if we did, then naturally it would be more cost-effective to employ local people).
We are a verified charity and unlike many volunteer programs, we are a non-profit organization.
check non-profit status: Exoneracion de Impuestos / Aldeas de Paz Constitution in the Dominican Republic 2016 / Aldeas de Paz Constitution in Venezuela 2001
The vast majority of our volunteers apply directly through our website, therefore allowing us to keep volunteer costs to a minimum.
Click
here
for a full breakdown of how your volunteer donations are spent.
The national currency of the Dominican Republic is the Pesos. Normal daily personal expenses range between US$5 and US$10. If you are interested in eating out more often or going out on weekends, these costs will obviously be higher. There are also many interesting natural places to visit in the Dominican Republic. There are ample opportunities to explore the mountains, beaches, and jungles. These of course will cost extra.
There are many options available for you to maintain contact with your family. There is free WIFI provided in all our foundation facilities! You can also purchase phone cards with data connection.
If you are planning on receiving packages while you are here, please be advised that it takes about from a week to two months to ship from North America to the Dominican Republic. Use private courier for speedy and secure delivery. (FEDEX, DHL, etc)
Europeans union members, Canadians and US citizens as well as many other nationalities don't need any entry visa! Since as a volunteer or a intern you are not "working" in the common sense but rather "helping out and visiting" you will declare yourself a "tourist" and as such you will receive the
"tourist card"
on arrival when you pass through customs! (10,- $US)
Now you can stay up to one year and only have to pay a small fee (10,- $US to 13,- $US) for every extra month after the first month! This "extension fee" can be paid in advance, while you are here, or, what we consider the most practical way, checking out on the airport the day of your departure! Sometimes proofing that you where helping as a volunteer in a charity you will actually receive a discount or be exonerated on departure!
Read on here:
Entry requirements Dominican Republic
Try not to come with too many expectations. Recognize that you won't leave feeling as though you've saved the world. It is good to have a provisional preference of the programs you want to participate in. Nevertheless, flexibility is appreciated. Due to the changing needs of our beneficiaries, and available resources, programs may change. Give 100% in all you do. Volunteers who put the most in definitely get the most out! Take advantage of the opportunities open to you. You may never have opportunities like these again, so appreciate the moment! At your volunteer work place show your dedication. Be open to trying new things and learning new skills. Finally, come with patience and a sense of humor.